Stockton's Best Children's Playgrounds
Take your children on an adventure to discover new playgrounds across the city. New slides, swings, climbing apparatus, monkey bars, rings, and places to explore will keep your children engaged for hours.
Victory Park
1001 N. Pershing Avenue
(209) 937-8206 Learn more ↓
Fritz Grupe Park
Cumberland & Swain
(209) 937-8206 Learn more ↓
Mike Garrigan Park
3690 Iron Canyon Circle
(209) 937-8206 Learn more ↓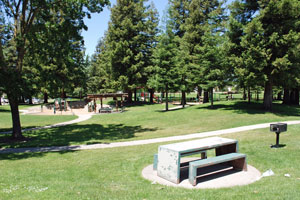 Laughlin Park
Modern playground features with multiple slides, tanbark surface. Picnic area. Plenty of shade from mature trees. But, alas, no restrooms.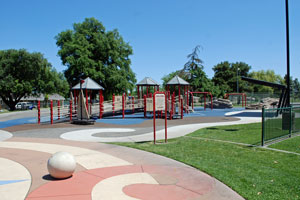 Van Buskirk Park Playground
Van Buskirk Park playground stands out as one of the finest in Stockton. Located adjacent to the Van Buskirk Community Center, the playground has a variety of climbing structures, slides, and swings. Nearby are two climbing rocks. Restrooms are avilable.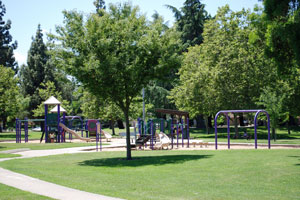 Fritz Grupe Park
Great variety of monkey bars, picnic area, sports fields and courts, restrooms. Lots of shade from mature trees and expanses of grass.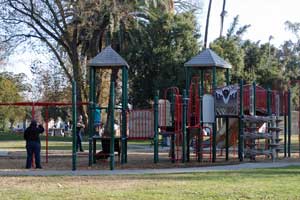 Victory Park
Victory Park features a modern playground with multiple slides and other apparatus. Nearby is a lagoon and several picnic areas. Restrooms are available. The Haggin Museum is on the grounds of Victory Park.
Victory Park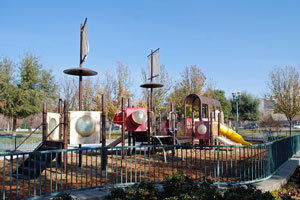 Weber Point
Colorful children's playground and interactive water feature. Explore the waterfront. Restrooms available.
Hours: Water Feature 11 AM to 8 PM
Weber Point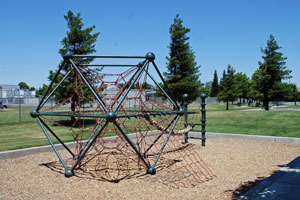 Mike Garrigan Park
Mike Garrigan Park features a regular play structure with slides and climbing apparatus and also an unusual spider-web-like climbing structure (shown left). Around the park are picnic tables, plenty of grass, a half-court basketball court, a single disc golf target, and a small skate park. Sadly, no restrooms.
Honorable Mention
Kennedy Park, 2800 South D Street.
17½ acres with pool, basketball, playground, picnic area. Restrooms must be rented. Yikes! A San Joaquin County Park.
Conway Homes Playground - 741 Flint Avenue
KaBoom, a national non-profit, teamed up with PG&E and local residents of the Conway Home neighborhood to design and build a dream playground. On November 2, 2013, more than 200 community volunteers, including many local residents, turned out to make the playground a reality.