Stockton's Best Children & Youth Venues
Children and teens have a variety of activities to choose from around Stockton. Many of these venues are as popular with adults as they are with the younger generation.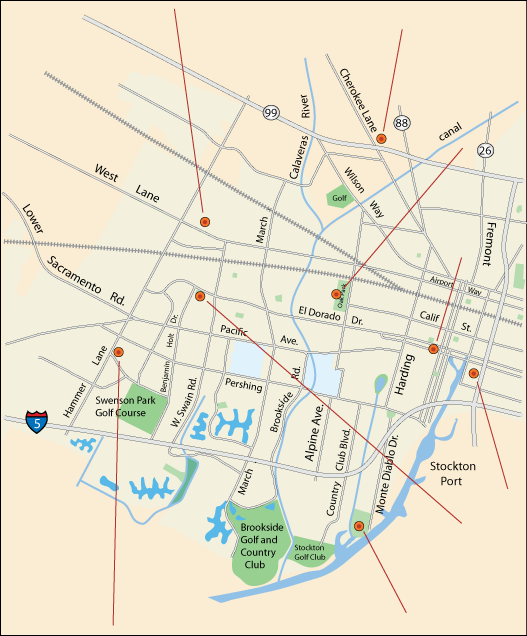 El Dorado St., between Swain Rd. & Benjamin Holt Dr.
Learn more ↓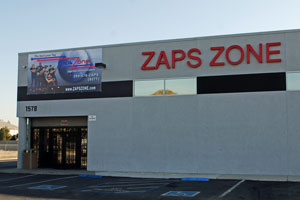 Zaps Zone
Laser tag at Zaps Zone - a favorite for kids of all ages. Teams compete in a split level arena filled with obstacles and hiding places. A single laser tag session is $8. Zaps Zone also has party rooms, an arcade, a jumper ($5) and a snack bar.
Hours: Wednesday - Thursday 4 PM to 9 PM, Friday 4 PM to 10 PM, Saturday 10 AM to 10 PM, Sunday 11 AM to 7 PM (Monday and Tuesday are available for private events.)
Zaps Zone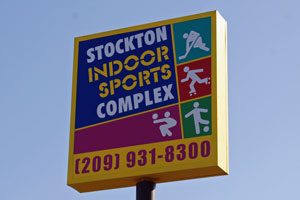 Stockton Indoor Sports Complex
Roller Skating, Roller Hockey, Indoor Soccer, Roller Derby -- all at the Stockton Indoor Sports Complex. Public skating sessions are offered on Friday evenings and Saturday afternoon and evenings. Admission is $6, plus skate rental. They carry both quad and inline skates.
Hours: Tuesday - Friday 3 PM to 10 PM, Saturday 1 PM to 10 PM
Stockton Indoor Sports Complex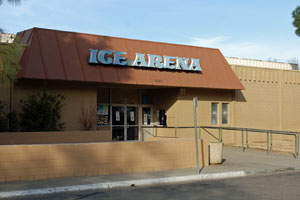 Oak Park Ice Arena
The Oak Park Ice Arena includes an 85 x 200 foot skating surface, a spectators section, and a full-service pro shop. Birthday party rooms are available. Two-hour Public Skate sessions are held on weekends and various weekdays. The schedule varies, so it is best to check their calendar: Oak Park Ice Skating Calendar. Public Skate Session prices are $5.75 for 12 and under, $6.75 for 13 and older. Seniors 55+ are $5.50. Skate rental is $3.75. Student Discounts are available on Monday, Wednesday, and Friday ($5.00 with student ID.)

Oak park Ice Arena also offers a Learn to Skate program, Drop in Broomball, Drop in Hockey, Stick & Puck (hockey practice sessions), and more. Learn to Skate is open to all ages from tiny tots to adults. 45-minutes classes are followed by a public skate session which is included in the lesson price. Oak Park Ice Arena
Teen IMPACT Center
The Gary and Janice Podesto Teen IMPACT Center is operated by San Joaquin County's Family Resource and Referral Center. The center is designed to reach out to local high school students through programs that build academic success, life-skills, and employment along with recreational activities. Among the many programs offered at the center are art, basketball, bowling, music, rock climbing, boxing, and Girls Powers Station. There is no charge for any of the programs.
Hours: Tuesday through Friday 3 PM to 8 PM, Saturday 12 PM to 5 PM Sunday - Monday Closed.
Teen IMPACT Center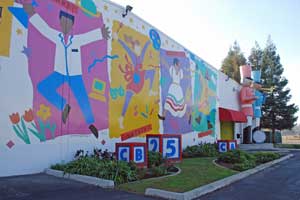 Children's Museum of Stockton
The KIDSWORLD exhibit at the museum spreads over ¾ of the 22,000 square feet of the building. KIDSWORLD is a miniature city for children with over 30 exhibits including a fire station, hospital, art center, post office, grocery store, and a recycling center. Other features at the museum feature an ambulance, the delta, a pet clinic, reptiles, party rooms, and a playground. Admission is $6 for those 1 year or older.
Hours: Wednesday - Friday 9 AM to 4 PM, Saturday 10 AM to 5 PM, Sunday 12 PM to 5 PM (hours subject to change)
Children's Museum of Stockton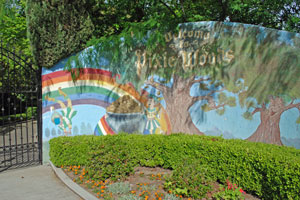 Pixie Woods
Pixie Woods is a sprawling children's fairyland with attractions such as the Pixie Express Train, Frontier Town, paddle-wheel boat rides, a vintage carousel, a fire truck, and a pirate ship. They also have a birthday party room which can be rented. Admission is $4 for ages 2 and older. Rides are $2.
Hours: Vary by season
Pixie Woods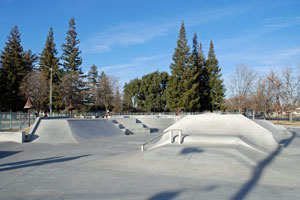 Stockton Skate Park
The Stockton Skate Park is on El Dorado Street, between Swain Road and Benjamin Holt Drive. The park features a half-pipe, moon, rail, EMB, fun box, star, piano, and offset steps. Helmets and pads are required.
Regular Hours:
Stockton Skate Park
Up the Road in Micke Grove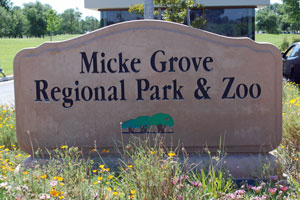 Only a few miles north of Stockton off Highway 99 is Micke Grove, a regional park with multiple attractions.
Micke Grove Zoo is home to more than 130 animals from 50 different species, including giant geckos, iguana, parrots, spider monkeys, and ring-tailed lemurs. Daily 10 AM - 5 PM. Adults $5, children (3-13) $3, 2 and under free.
Fun Town - a children's amusement park with 10 rides, including a Kiddie Coaster and train. Open 11 AM to 5 PM (6 PM on weekends) (209) 369-7330
Disc Golf Course
Children's Water Play Features
Playgrounds
Japanese Garden
San Joaquin Historical Museum
Wortley Lake

Hours: 8 AM to sunset ($5 per vehicle on weekdays, $6 on weekends)
Micke Grove
Summer Theatre for Youth
Stockton Civic Theatre annually offers a summer program for youth which includes acting, singing and dancing and culminates in the production and presentation of a full-scale musical. In 2018 they will be presenting Shrek the Musical Jr..
Stockton Civic Theatre